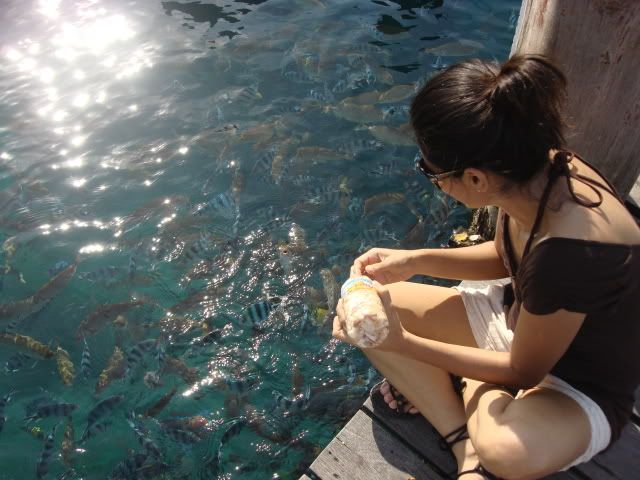 My trip to Sabah was awesome! I've never been to Sabah. If you're in KK, you must visit the islands. The islands are amazing :) The best part is that it isn't far. Boat ride from Jesselton jetty takes you about 15mins. I think another jetty (near Sutera Harbour) is a tad closer. There are so many islands in Sabah. The closes to KK are Manukan, Mamutik and Sapi. The seawater is so clear.
Swimming with the fishes was such an amazing experience. The seawater was so salty...I didn't have to paddle much, I just float. It's the best place to snorkel because you don't have to keep swimming to stay afloat. The sea was pretty calm with light waves lapping the golden sandy beach. I could just swim around and when I stop I'd just hover above the fishes.
But if you can't swim, please wear a life-jacket
. It was awesome to be snorkeling and watching the fishes below me, scooping sand and spitting it out, fishes swimming around their anemone home, beautiful corals, etc. It's like I was transported into a different world. *grin*
I can only describe it in one word..AMAZING!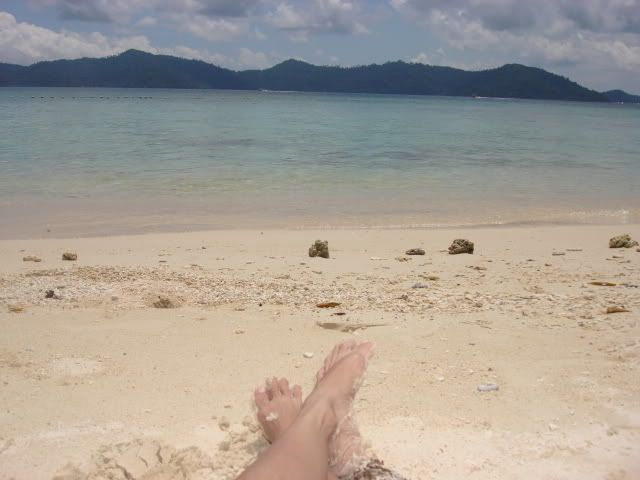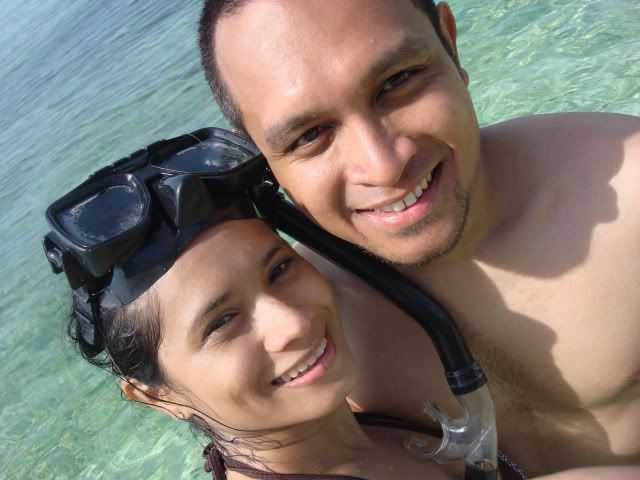 Fyi, if you're going to the islands off KK :-
Get your tickets at the jetty counter. Do not buy from anyone who approaches you.
If you have extra to spend, charter your own boat. It's better when you have a private boat that drops you off as early at 7.30am and fetches you when you're done. But you need a mobile phone to call them when you're done because they aren't allowed to wait at the jetty. We charter our own boat because it was more convenient. We got a good price RM200 for 2 islands, 2 snorkeling gears and 2 pairs of flippers (didn't use the flippers). It's cheaper to go in groups, BUT you have to go with their drop-off and pick-up time. If you want to leave earlier you'll have to pay RM50.
The fishes loves bread. It's cheaper to bring bread from KK. If you buy bread from the islands, it's RM3 for a small bottle of stale bread crumbs (stale or not the fishes ate it anyway). But the point is, with RM3 you can get a whole loaf of bread. (Shh! I wanted to sneak some bread from the buffet table but Al told me not to)
Go to the islands early in the morning because it's not crowded. It gets a lil crowded by 11am. Some groups who took the lunch package will stay at the islands until after lunch.
As for shopping, there isn't anything much to shop in KK. Unless you like pearls, carved wooden stuff, beads, etc.
I didn't get to see Mount Kinabalu. Next time perhaps :)